Shakti's Stylish Manifestation
by Rijuta Dey


August 31, 2009
Originally published in the Kolkata Mirror ( short url: http://tinyurl.com/yc2oc88 )


Yards of history, culture and creativity - saris and femininity have an intricate and subtle relationship that manifests everyday in an Indian woman's life. Come sharat-kal and Durga Puja, we find special reasons to indulge in these yards of grace and sensuality. Crafts Council of West Bengal is organising an exhibition of saris called Agomoni 2009: A celebration of life at Artisana, offering uppada saris, silk and cotton paithani saris, khadi sari,

gadwal

saris, ikat saris, chanderi saris, maheshwari saris, among others.


| | |
| --- | --- |
| | |
| Reba Som | Nandita Pal Choudhuri |

Ruby Pal Choudhuri, the elegant snowy haired director of Crafts Council of West Bengal said, "Ma Durga's power manifests within us everyday in various ways. The goddesses' ten hands allude to a woman's daily multitasking."

The exhibition was inaugurated on August 29 and saw a horde of well dressed and stylish city ladies sharpen their claws as they jostled to bag the exclusive sari. Dr Reba Som, director, Rabindranath Tagore Centre, Indian Council for Cultural Relations, graced the occasion as chief guest and ruminated upon the significance of Ma Durga's everyday manifestation as feminine shakti. She also lent her voice to Tagore's

jagat jure aanando sur baaje

and

tumi daak diyecho kon shokale

, musically stoking the culture-laden ambience. "The sari has stayed on for such a long time because of the excellence and innovation of Indian weavers and artisans, who inject fresh life into the traditional six yards," smiled Reba.




| | |
| --- | --- |
| | |
| Burst of colours! | Spoilt for choice |
"I love the fact that the buyers get to interact with the creators directly," gushed visitor Nandita Pal Choudhuri. "I have picked up ten beautiful pieces and want to see more," she added.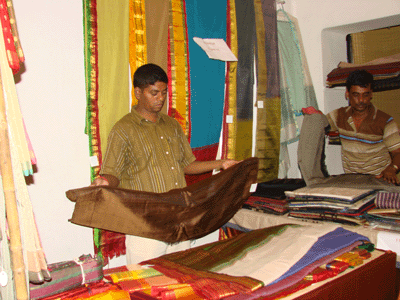 The evergreen zari border is an all-time hit
The aforementioned claws came out when two ladies set eyes upon the same sari.
"Dada eta aapni lukiye rakhun, eta kintu aamakeyi chaai,"
whispered Purbi, a council member conspiratorially at the Orissa stall. Steve, a French national who was spotted gazing at the burst of colours and distinctive cloths, seemed obviously impressed. He was overheard wanting to take an intricately worked sari as a wall hanging!
The exhibition is on until September 3, 10am-7pm daily.
Photos: Dipanjan Ghosh