A river runs through it
by Rijuta Dey
February 14, 2010
Originally published in The Hindu ( short url: http://tinyurl.com/yb6p9xf )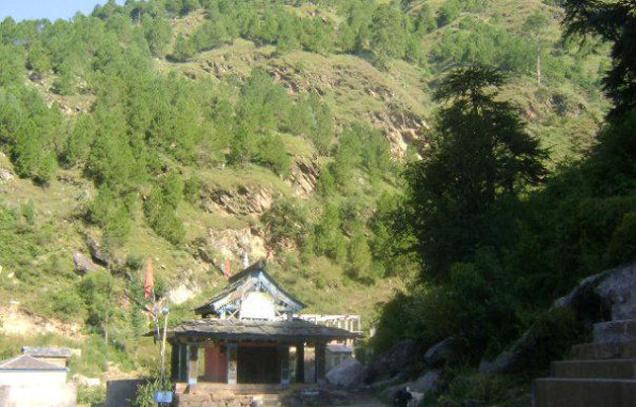 In Nature's Midst: Gushaini. Photos by Rijuta Dey.

Breathe in the crisp mountain air, and bite into luscious home-grown apples at Raju Bharati's homestay

The cold mountain waters gurgled past unhurriedly as I struggled to rest atop a weather-chiselled rock on the river bank. I then turned my attention towards the water dancing around my ankles, deliciously cold and refreshing, as I dipped my feet into the Tirthan river. I breathed in the crisp mountain air and sipped fragrant tea, reclining languorously on my chosen rock to lazily read a book.
My friend chose to stare into the beauteous sights surrounding us, mesmerised. It was unthinkable that only a day before we were breathing in Gurgaon's polluted air and nearly decomposing in the sweltering summer heat.
Mountain hamlet
We were in Gushaini, a tiny hamlet nestled in the verdant folds of the Tirthan Valley in Kullu district. This mountain hamlet would have been like any other village that dots the hills and mighty mountains of North India, if not for Raju Bharati, an enterprising man who has converted his house into a delightful homestay for those longing to live close to Nature.
Raju Bharati's cottage is partially hidden under lush mountainous foliage and across the Tirthan river; therefore, it is not very easy to spot. A wiry man, Raju Bharati informed us that we had to make our way to the cottage by pulling ourselves across the river on a metal basket that dangles on a one-inch thick wire.
To glide across a frothing river on a rope pulley, with the mountain breeze whipping my hair, was an unprecedented experience. I felt like a free bird. The cottage looked as if frozen in time; the air smelt of mellow sunshine and cinnamons, and pretty butterflies fluttered among the violet mountain blooms.
Our double bedroom was made up of wood and locally-sourced materials; even the electricity outlets were adorned with pine. The windows offered the river's view, verdant mountain trellises doubling as curtains. The bathrooms were fitted with geysers and other modern amenities, though.
The cottage is set amidst a 22-acre estate, where grapes, apples, apricots, and plums grow (that explained the mouth-watering smell enveloping the entire property).
Raju's bhaiyya's wife, Lata, prepared the most subliminal dishes using the freshest ingredients from her kitchen garden. Afterwards, despite our heavy meals, we lounged about in the hammocks in the garden and munched on delicious home-grown apples.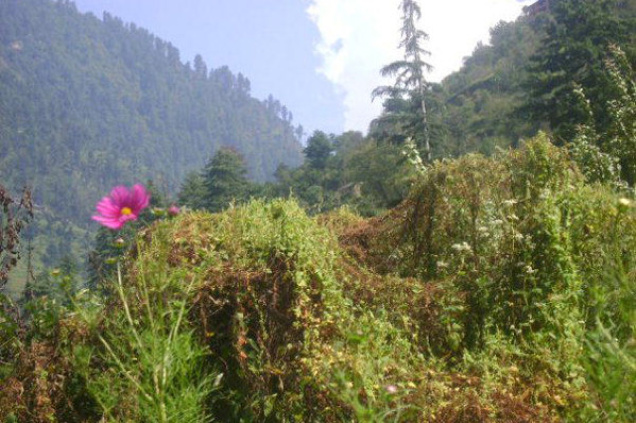 We were moved enough by those luscious apples to pen down an elegy in its honour; just that our amateur writing didn't do any justice to them. At night, we were lulled to sleep by the gentle sound of gushing water.
The next morning, we undertook a mountain walk and explored the sleepy little hamlet of Gushaini. Later that day, we left for New Delhi, drinking ambrosial home-made apple juice and bracing up for the blanket of pollution that was sure to greet us as we made our way towards 'civilisation'.

Getting there
Gushaini is 550 km from Delhi and can be reached via road in 15 hours.
The route is Delhi-Chandigarh-Mandi-Kanda-Gushaini. It is economical (and more enjoyable) to take one of the many buses that ply to Kullu-Manali, daily from Delhi.
If taking the bus, get off at Aut, just after the Pandoh tunnel (an hour before Kullu), on the Manali highway from Chandigarh. From Aut, it is a pleasant 26 km drive along a mountain river.
The charges (negotiable) are Rs 1250 per person per day (inclusive of three meals and snacks)
For reservations, call (01903) 225008 or 09418149808.